Kirstie Chadwick
Venture Lab Coach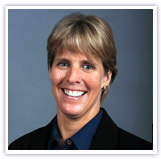 Kirstie Chadwick has nineteen years of experience in the high technology industry, and has worked for a variety of technology organizations, both large and small. Kirstie graduated Summa Cum Laude from UCF with a degree in Computer Science in 1987. After graduating, Kirstie worked as a software engineer at Lockheed Martin for five years. After leaving Lockheed Martin, Kirstie moved into business development and sales while working at two technology startups that have since become market leaders in their fields - Sun Microsystems and Wind River Systems.
For the past fourteen years, Kirstie has worked almost exclusively at small startup technology companies, many of them based out of Silicon Valley. Kirstie's career at entrepreneurial startups cumulated in 1999 when Kirstie co-founded her own software company, DigitalOwl. As the CEO of DigitalOwl, Kirstie successfully raised $13.2 million in venture capital and angel financing, grew the company to 35 employees, and gained high profile clients such as McGraw-Hill, Time Warner, and SwissRE Insurance. As a result of her varied startup experiences, Kirstie has worked for companies that went public, that were purchased, and that failed. These experiences have provided Kirstie with an incredible amount of expertise in the dynamics of how successful startup technology firms grow and gain market share.
In late December 2002 Kirstie retired from her career of managing high technology companies to pursue her Masters degree in Management at UCF, with a focus on building entrepreneurial teams. Kirstie completed her Masters degree in July 2004, and accepted the position of Director of UCF's Venture Lab in late August of 2004.
Kirstie is the recipient of UCF's 2003 Presidential Fellowship Award, the 2001 Women Who Mean Business Award from the Orlando Business Journal, the 2001 Southeast Working Women Entrepreneurial Excellence Award, and the Dr. W. Judson King Memorial Award for entrepreneurs that make a difference in their communities. Kirstie was an active participant of Mayor Glenda Hood's Orlando High Tech Council. She sits on the Board of Directors for Florida's Digital Media Alliance, the Astronaut Memorial Foundation, and the Girl Scout Citrus Council.
Kirstie loves hiking, kayaking, kickboxing, reading and jogging. She has run two marathons on behalf of the Leukemia Society, and is actively involved in the lives of her husband and two children.